OK, they're fried pork skins. But since they're all protein and fat with NO carbohydrates, they are the perfect snack food for those on the Atkins diet! The kind you buy in bags at the store are light and puffy.
Another type of chicharrones is sold in markets, cafes and some bakeries. It's a thick slice of pork from the belly (the same cut used to make bacon) with skin, a layer of fat and meat. We know that it looks and sounds very unhealthy. However chicharrones taste great and like they say: "all good things in moderation."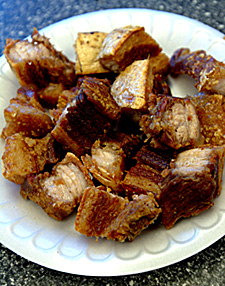 A plate of fresh, hot chicharrones, chopped into serving size chunks.
Masitas de Puerco Fritas are fried pork chunks. They are slow cooked until very tender, then lightly fried in their own oil. These are great with a little mojo sauce and sliced onions. You might also see these as "carnitas" in some Latin markets, especially Mexican ones.
Masitas: tender chunks of slowly cooked pork.
Chicharrones
Masitas de Puerco Fritas
Cubans eat potato chips - occasionally. However, they are much more likely to reach for a bag of plantain chips. Either sliced in circles or long strips, plantain chips have a unique taste.
Don't confuse them with the sweet banana chips you've seen in "trail mixes." These are sliced from the plantain - the Latin American potato. They're salty and crisp and a perfect accompaniment to a good Cuban beer or soft drink.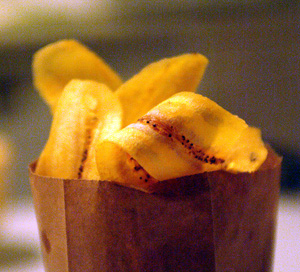 Another member of the starch family, yuca (pronounced yoo-kah) is a root, like a potato and another good choice for a chip. Some of the best are made hot and fresh at markets and cafes. Salt them yourself to get just the right flavor!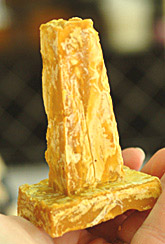 They look like little copies of the Washington monument, only golden brown in color. This is a super sweet treat made with unrefined sugar and corn syrup. Look for them at Cuban groceries, snack shops, and walk up windows. This is a very unique Cuban treat!
Mariquitas: Plantain Chips
Mariquitas: Yuca Chips
Raspadura