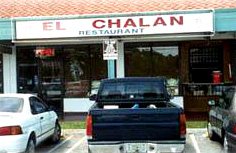 Glenn Lindgren: Being surrounded by water, you'd think that Florida would have plenty of fresh seafood available.
Jorge Castillo: But getting good seafood can be a hit or miss proposition.
Glenn Lindgren: So when we find a good seafood place, we return time and time again.
Jorge Castillo: One place we've found that is consistently great is a Peruvian restaurant called El Chalán.
Raúl Musibay: You better be hungry when you go to El Chalán because they serve you a huge plate of food for a very reasonable price.
Jorge Castillo: Corvina or sea bass is a house specialty. It's available in combination on several entrees, all of which include squid and octopus.
Glenn Lindgren: I was never a big fan of squid and octopus, but the sauce they use is so delicious, I ate everything!